A legacy of community service.
The Lacy Foundation is our family's outward commitment to making central Indiana a thoughtful, caring, and thriving community.
The Lacy Foundation is a private charitable foundation established in memoriam of Stanley K. Lacy by the Lacy family in 1973. The Foundation continues the Lacy family legacy of community engagement with a focus on education, leadership, arts & culture, and other quality of life issues.
The Foundation's philanthropic objective is to help Indianapolis become a world-class city in which to live, work, educate, and play. Philanthropic giving is directed to the following priorities:
Education
Community Impact
Arts and Culture
The Foundation works primarily with known organizations, programs, and community leaders to identify, develop and fund projects in Central Indiana. It does not accept unsolicited requests. The Foundation does not fund individuals, religious institutions, individual schools, individuals research nor does it support organizations for specific health care causes.
The Lacy Foundation underwrites the Stanley K. Lacy Executive Leadership Series®, which develops and mobilizes current and future leaders to benefit Central Indiana. Since 1976, SKL® has engaged leaders and fostered community stewardship through educational seminars, placemaking tours and interaction with experts, leaders and decision makers. There are more than 1000 graduates of the program.
The SKL Series® is owned by the Lacy Foundation and is licensed to Leadership Indianapolis to administer.
For more information or to apply for the SKL Series®, please visit:
www.leadershipindianapolis.org/programs/skl.
Jill Lacy is the President of the Lacy Foundation, the private charitable foundation established by the Lacy family. She also serves on the board of Leadership Indianapolis, the Indiana Repertory Theatre, the Women's Fund of Central Indiana and the Ball State University Foundation. She is on the national board of directors (National Council) for Alpha Chi Omega Fraternity and on the board of directors for the Alpha Chi Omega Housing Corporation.
Additionally, Jill serves on the Women of Beneficence board, the women's philanthropic group at Ball State University. Previously, Jill served as co-chair and treasurer of the Children's Museum Guild Haunted House, the Greater Indianapolis Progress Committee, and various other committees throughout the area. 
Jill earned her MEd in higher education administration from Indiana University and holds degrees in political science and exercise science from Ball State University.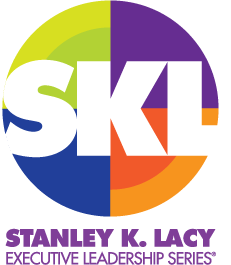 "Indy's future will be determined by our ability to attract and retain young people with the education and passion to succeed. The SKL Series is a great asset by encouraging and networking emerging leaders driven to improve Indianapolis."
Greg Ballard,
Former Mayor of Indianapolis